Nowadays it is crucial to have some sort of balance between work and personal life. Generally, having a sense of balance will improve the overall job satisfaction between employees.
Accordingly, Rubikal applies exceptional "Work from home" policies that are unlike others in the Egyptian job market on top of flexible working from office hours.
If you have a delightful workplace, you will have delighted employees and accordingly, delighted customers.
Apart from the job title or job description itself, A very important factor that a lot of employees nowadays care about significantly is how they feel about work, in other words; the work environment.
By work environment, we mean things like the relationship with management and co-workers, the office culture, opportunities for career development, etc.
A truly delightful work environment makes everyone feels good about going to work, and this boosts their motivation throughout the day. If you're looking for a job, then we recommend that assessing the working environment is a very important step that you shouldn't skip.
In this article we will go through the top reasons that made Rubikal become Alexandria's, Egypt favorite destination for software engineers.
Rubikal scored 4.8/5 , according to Glassdoor reviews
Open Door Policy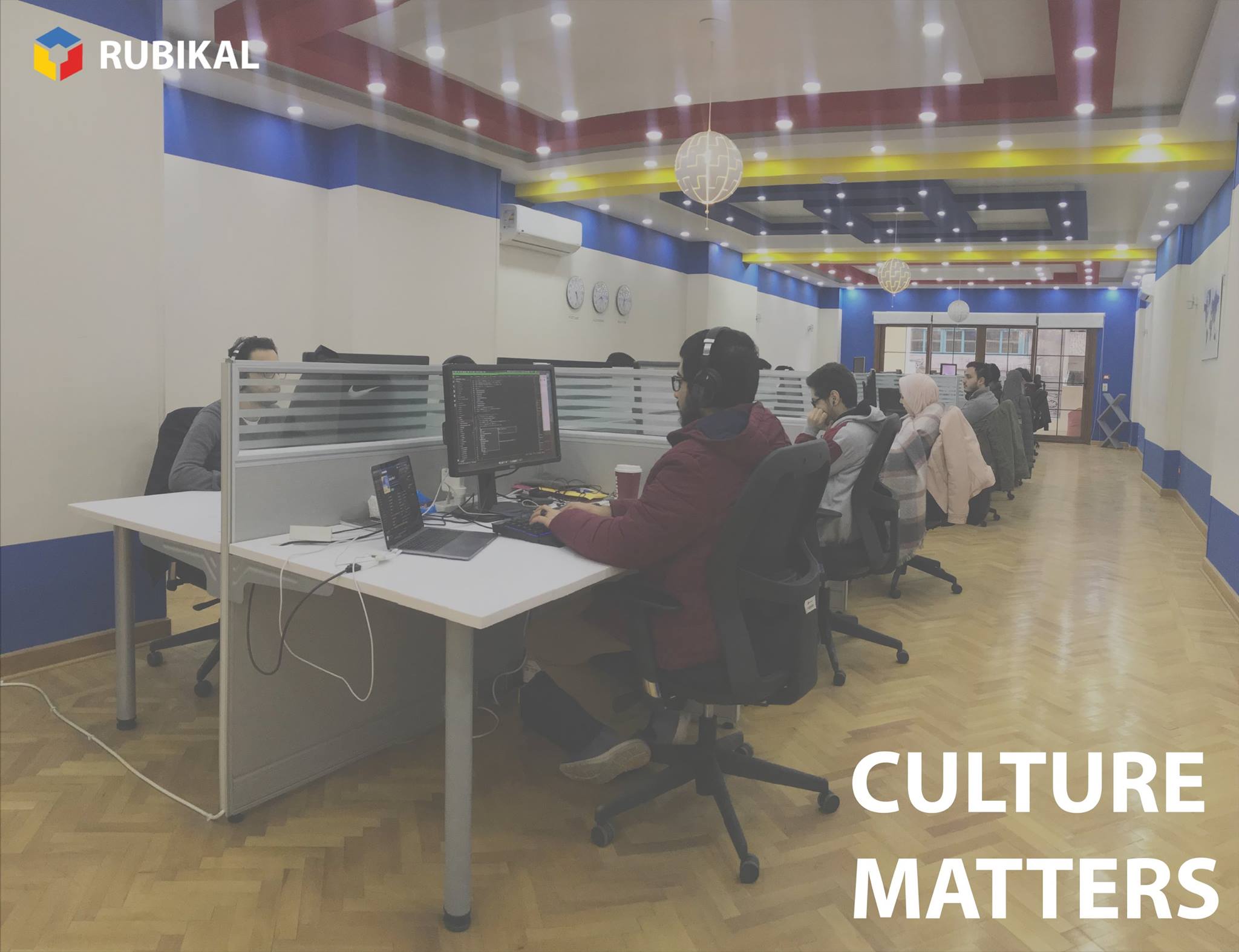 A communication policy where CEO, CTO and managers have no closed doors, as a matter of fact Rubikal's management stations are in the middle of the workstations hubs and you can never differentiate which station belong to management.
This encourages openness, transparency and higher level of engagement with the Rubikal's heroes. Employees are encouraged to stop by whenever they feel the need to meet and ask questions, discuss suggestions, and address problems or concerns with management. An open door policy is typically intended to foster an environment of collaboration, high performance, and mutual respect between upper management and employees.
Learning & Development Focused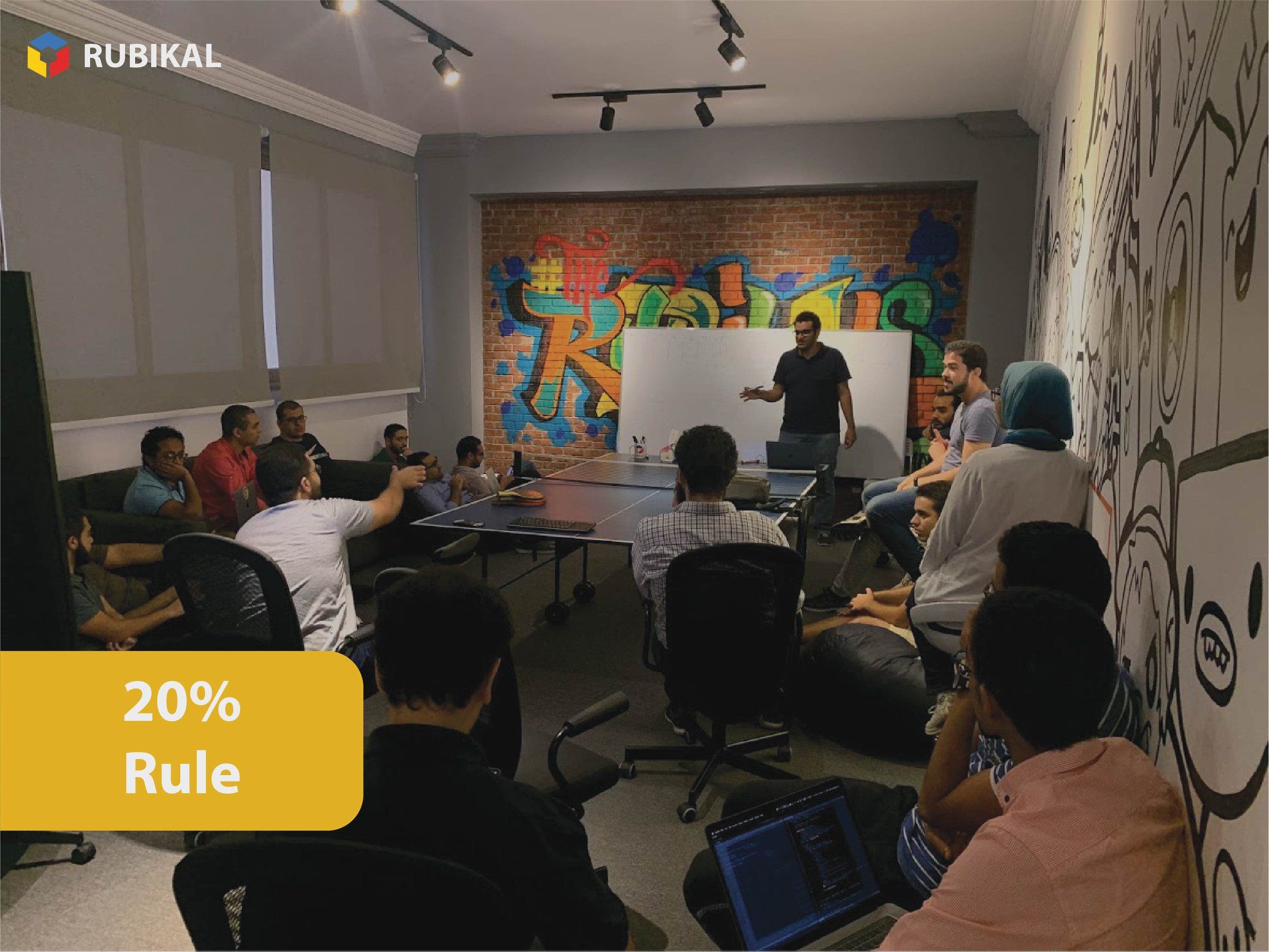 In a time when change is more common than ever before, it is necessary for companies to be keep up with the changes and train employees accordingly. For example, technology is developing so quickly that what companies commonly used a decade ago.
We encourage employees to invest 20% of their time at work in learning and we support them to achieve this.
Learning and development-focused companies has a clear roadmap for training their employees to sustain and enhance the productivity of the company as a whole. Essentially speaking, there are two kinds of skills that can be developed: hard skills and soft skills.
Hard skills: impact work productivity directly e.g. learning new technology stack like Elixr.
Soft skills: interpersonal skills which could affect the morale of the organization.
A positive work environment would have routine trainings to improve efficiency and instill positive attitudes among employees.
Work Life Balance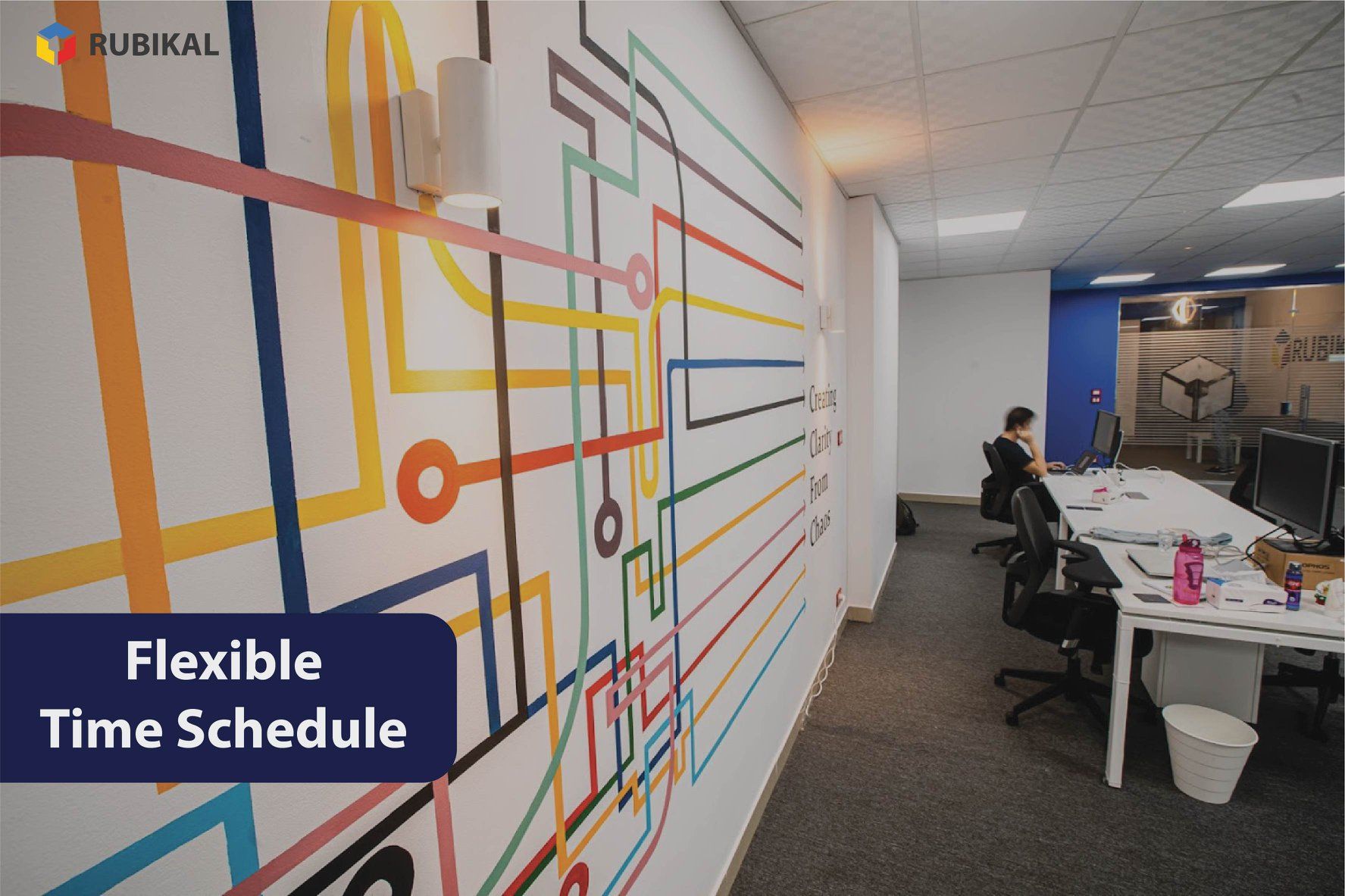 Now days it is crucial to have some sort of balance between work and personal life. Generally, having a sense of balancing will improve overall job satisfaction between employees.
Accordingly Rubikal applies an exceptional to the Egyptian market "Work from home" policies on top of a flexible working from office hours.
At Rubikal we have enabled flexible working hours, encouraging employees to work from whenever they work best. To allow this, we encourage all team members to be available on Slack during working hours and track their tasks using our task monitoring tools, so all team members can stay in the loop with the project's progress, even when working across different locations.
When employees fulfill their various needs and goals in life, such as those of family, friends, spiritual pursuits, self-growth, etc, they can then feel more confident about themselves and perform their best at work. Apart from that, employees that are exposed to more experiences in life outside of work can use what they've gained and apply that to their work.
In other words, work-life balance can promote creativity and out of box ways of thinking.
Top Tier Medical Insurance
The cost of healthcare is becoming a great source of frustration and pain for many Egyptians nowadays. Hence, having a proper health insurance coverage is becoming an essential need to any employee regardless of his/her marital status.
So, it shouldn't come as a surprise that providing high-quality and affordable healthcare is one of the most important benefits when it comes to attracting and retaining employees.
Rubikal enrolled all employees to one of the top tiers medical insurance packages across Egypt. With coverage to the top hospitals and medical service providers
On top of that Rubikal occasionally holds on site medical check up to ensure healthy lives and promote well being.
Meals & Commuting allowance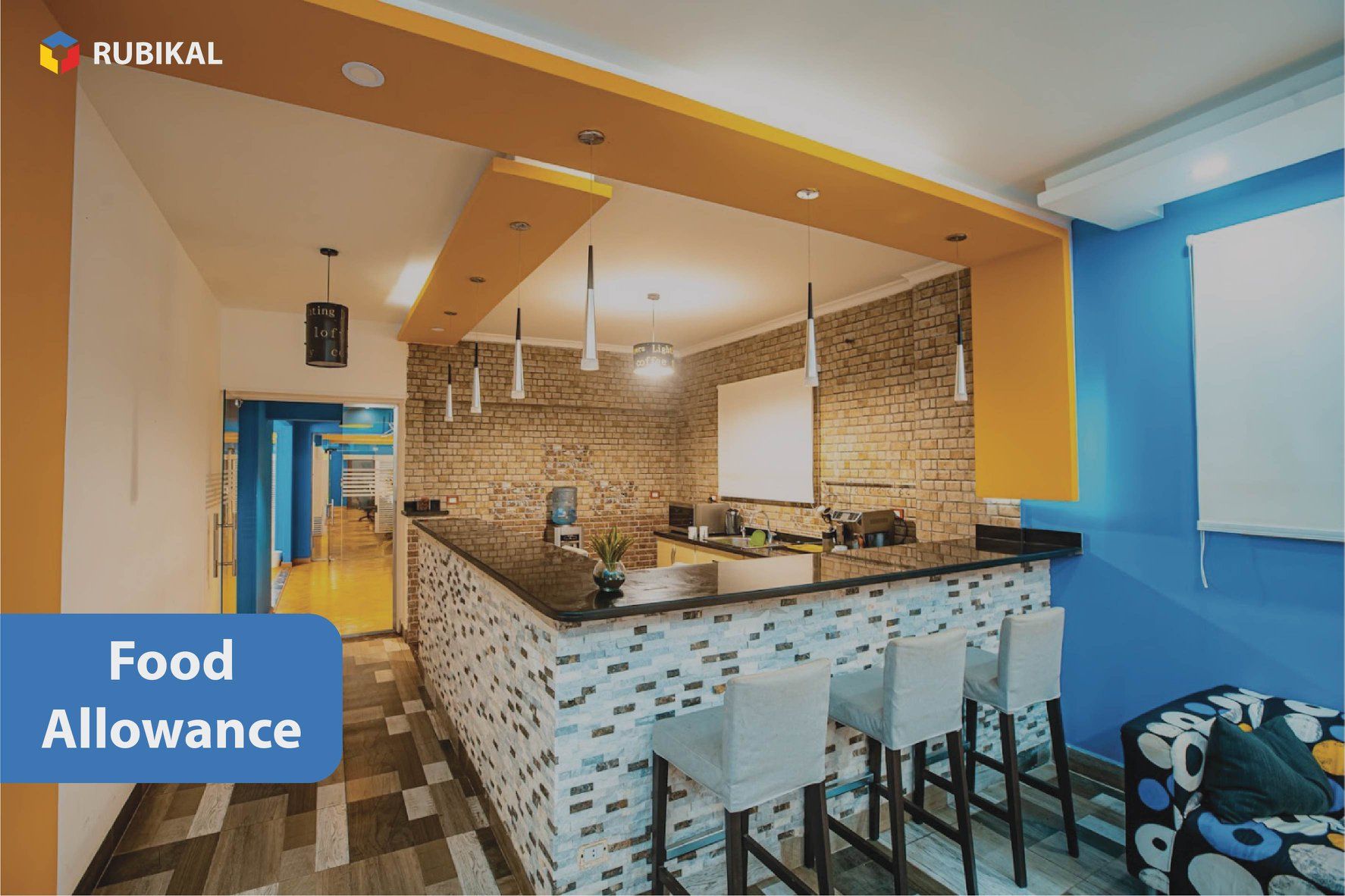 Nobody can deny that most of the fun and quality time time is always happening while having food around, so at your first day at Rubikal you will be introduced to the monthly meals allowance and how is the ordering routine goes.
All Rubikal employees get monthly in office meal allowance
The Slack #food channel is the most active channel by far with hundreds of conversation, where group orders are processed, and by mid day you will find most of The Rubikals are gathered in a cozy food lounge, sharing fun conversation and delicious meals in a family like environment.
Allowance are not only for meals but also for Uber free allowance, as our employee-security and convenience is a priority
Rubikal subscribed to a business Uber account and linked its employees accounts to enjoy a free from and to office rides
Awesome Work Environment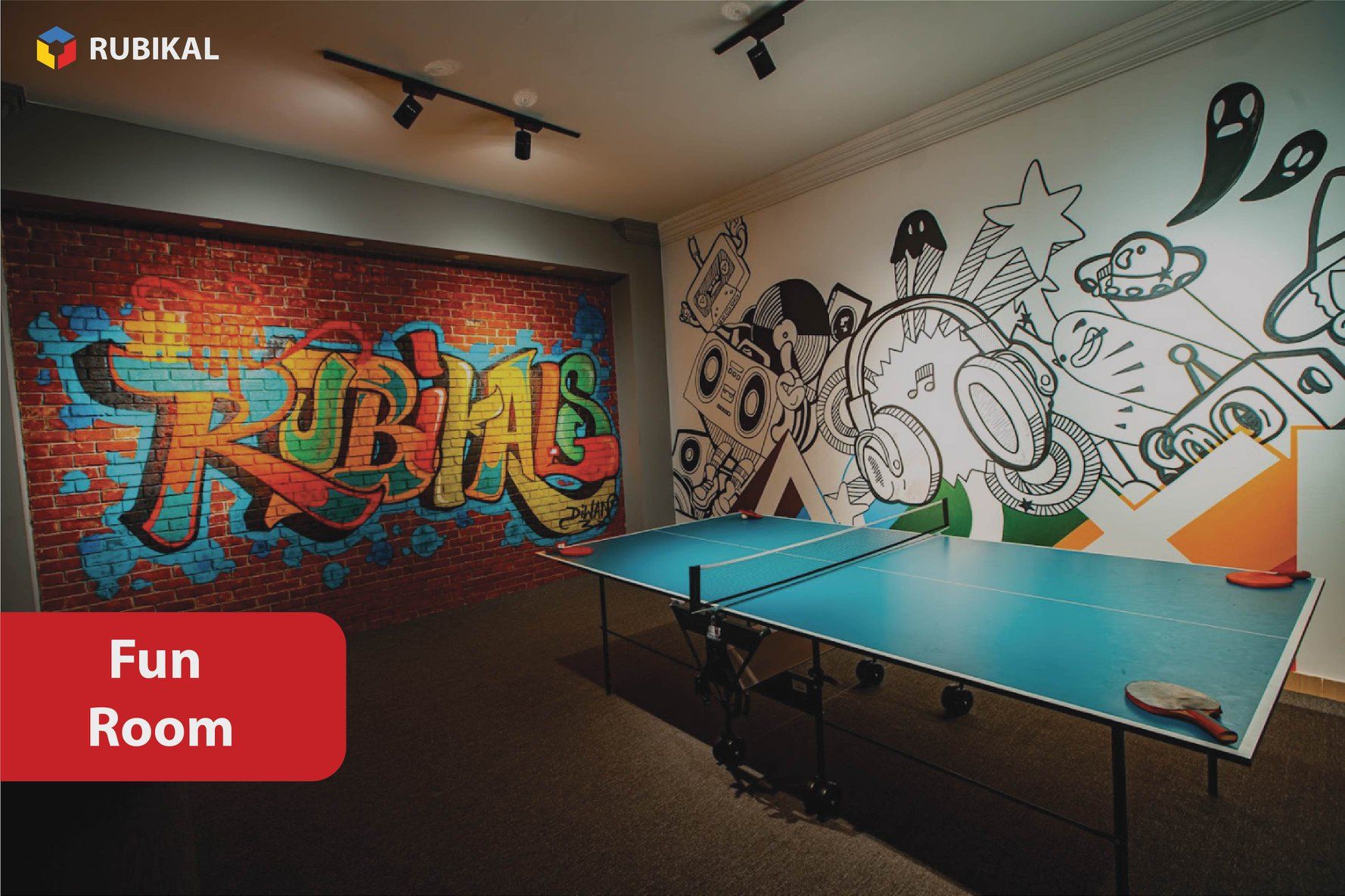 Colors are deeply embedded in our daily lives, and impact our overall experience. Through this concept a stylish choice of office colors are now used as a tool to connect employees to our organizational brand.
Employees can take a break and utilize the fun room to play table tennis, watch movies or even play Nintendo
Color can also improve one's experience at work in a positive way affecting their focus, stress levels, and mood.
We ensured to finish the spacious 1500 square meter office with colors, bright lighting that reflects Rubikal's brand.
If you had a 10 minutes walk in Rubikals office you will feel how the Rubikal experience feels like.
World Class Talents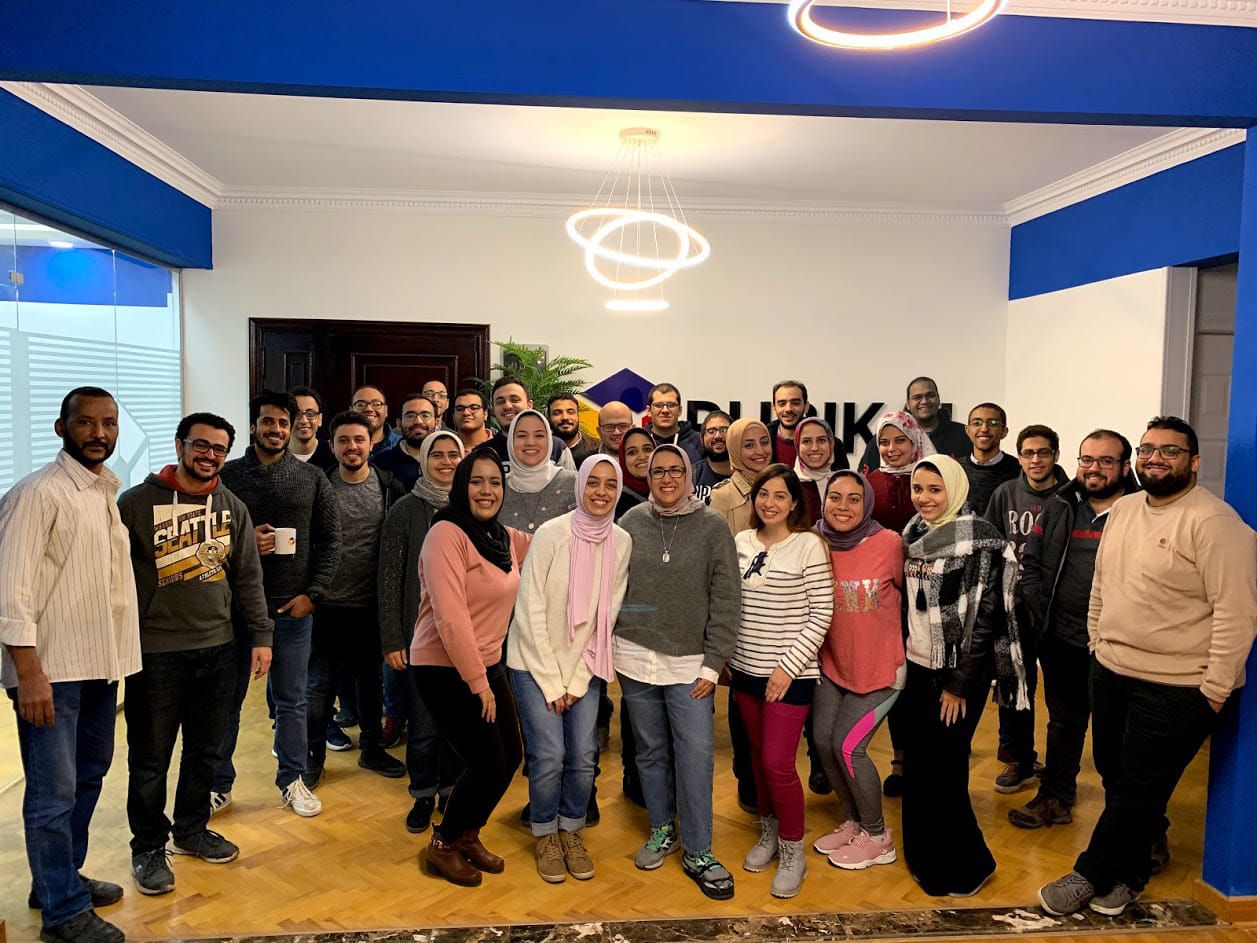 People don't join Rubikal only because the benefit or perks package but also it is a great and challenging opportunity to learn not only from products we build with the latest technology stack in the market but also from an incredible team of talented engineers.
We only hire top talents and don't compromise quality, as a result of that if any of our talents joining other companies, they join the top in the world i.e: Google, Facebook, Trivago, Careem, Amazon and Microsoft
---
Ready to work with us?
We have a full house of talents, who are capable to build your dream application. Rubikal can help from an idea phase to a scaling solution that serve millions of users. Reach out to us Here

Book a meeting with us

Learn more about us here Rubikal.com

Engineer and up to the challenge, check out our latest job opening here